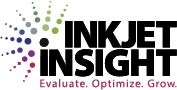 Schilling Inkjet Consulting is proud to announce an industry knowledge partnership with Gooding Communications Group.and WhatTheyThink.com. We put our minds together to bring you InkjetInsight.com. A technical deep dive into the world of high speed inkjet printing focusing on ink, paper, workflow, mechanical and print quality..

Look for our participation on the Inkjet Summit Advisory Council as well as attending Inkjet Summit, Xplor, INg, PIA and CPP as guest speakers as well as blogging for Printing Impressions Magazine.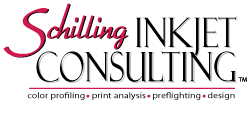 We understand your ink to surface print and production issues. Located in the midwest, Schilling Inkjet Consulting's passion is to provide the best technical support and training to manufacturers, paper mills and end users in the inkjet industry. Partnering with the top print head, ink and automation developers in the industry, SIC can help with any image quality issues you have.

That is why we were asked to write a book about it... The Designers Guide to Inkjet

Please feel free to contact us with your any color or print quality questions.

Please email us at: mary@SchillingInkjetConsulting.com or call us at 317-861-8874

Look for @InkjetGenie on Twitter and BLOGGING FOR PRINTING IMPRESSIONS